Front Nine
Hole #1 - Par 4
A short dogleg left starting hole. A good drive will leave a wedge approach to this green.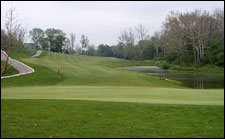 Hole #2
Hole #2 - Par 5
This hole is considered one of the most difficult holes in the area. This par five has two small water hazards on the right and a hole length pond on the left. The fairway slopes severely toward the pond. The narrow opening to the front of this green makes it difficult to reach in two shots.
Hole #3 - Par 4
A medium length par four with an uphill tee shot and a downhill approach to a very tricky, sloping green.
Hole #4

Hole #4 - Par 3
One of the most picturesque holes at PipeStone. This downhill, stadium par three's green is guarded in front by a stream and protected by a sand bunker and steep slope.
Hole #5 - Par 4
A long, difficult hole. An uphill tee shot leaves golfers with a lengthy approach to a shallow green, which is protected by a front sand bunker. Par is a good score here.
Hole #6 - Par 5
A blind tee shot down the right side of the fairway gives the golfer an option to go for the green in two, anything left or right could be in the trees. The green is protected by sand bunkers in front and on both sides.

Hole #6
Hole #7
Hole #7 - Par 4
A tee shot across the stream off the tee leaves a short, uphill approach to a sloping green protected by a deep sand trap and thick grass bunkers.
Hole #8 - Par 3
This short par three is reached with a short to mid iron, and is protected by a deep sand bunker on the left.
Hole #9 - Par 4
This short par four is made difficult by a natural area guarding the front of the green. This area is within driving distance, and an iron shot for long hitters off the tee is recommended. This hole also boasts a sloping green and a bunker on the right side.